Many Voices, One Story, Public Sculpture / Community Engagement, North Miami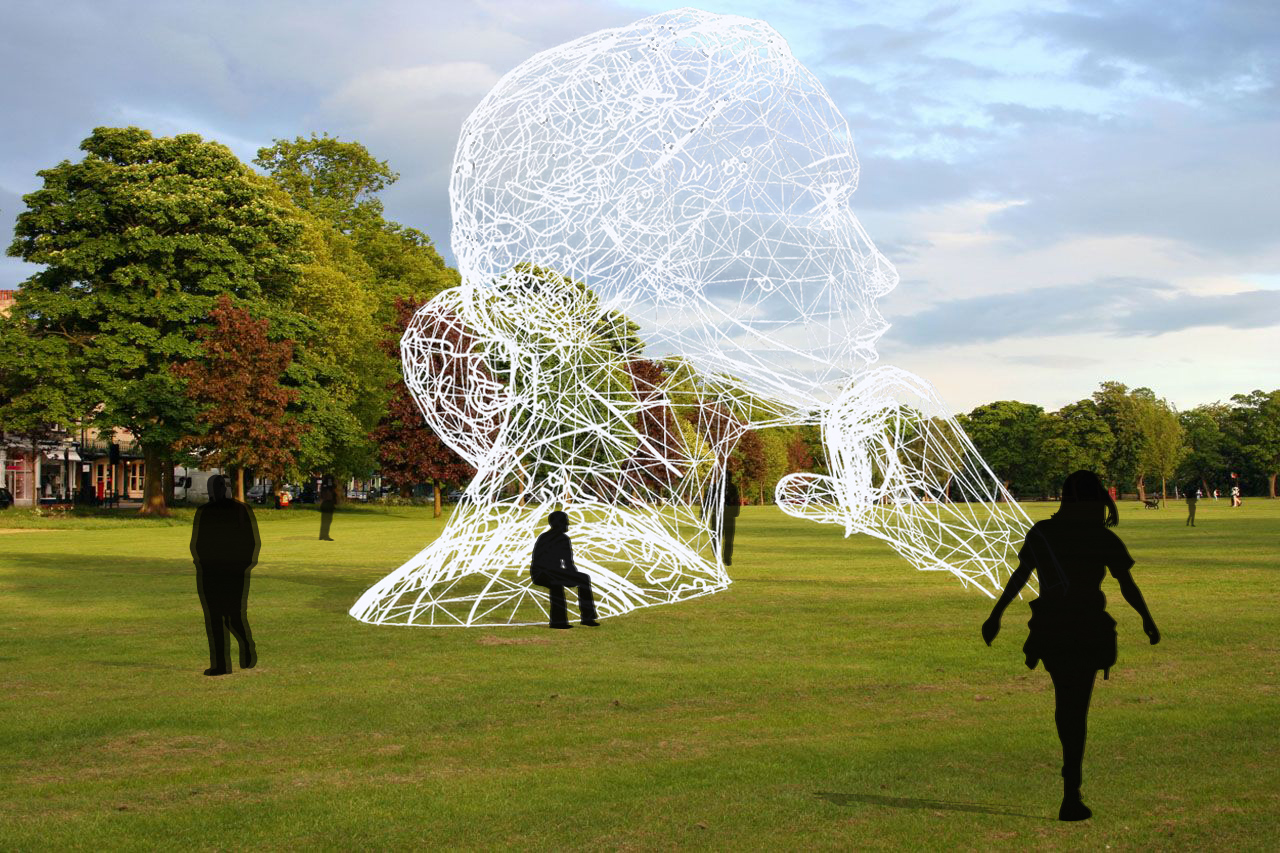 MANY VOICES, ONE STORY
A Large Scale Public Sculpture and Community Engagement Initiative
North Miami
Opa-locka, Florida
2013 - 2016

In collaboration with The Fulton Ross Group
Gale Fulton Ross, Artist
Fayanne Hayes, Curator and Community
Engagement Coordinator

In January 2012 Fayanne partnered with artist Gale Fulton Ross and co-authored a $473K grant proposal to develop a public sculpture for Miami's Magnolia North community in Opa-locka, Florida. Many Voices, One Story was selected and funded in part by the National Endowment for the Arts. The project involves the creation of a large scale sculpture, designed by Fulton Ross and a community engagement initiative led by Fayanne Hayes.

The sculpture slated for completion in 2015 will stand at a height of 30 ft. situated within a park setting. The sculpture contains a large time capsule which will be filled with the 'many voices' of the citizens of Opa-locka - their stories, reflections, memories, and mementos. A beacon light will run continually at the top of the sculpture reminding the community of its hopes and dreams for the future.

This project is sponsored by the Opa-locka Community Development Corporation in collaboration with Miami-Dade County Art in Public Places and Opa-locka stakeholders.

Image: Many Voices, One Story proposed sculpture by Gale Fulton Ross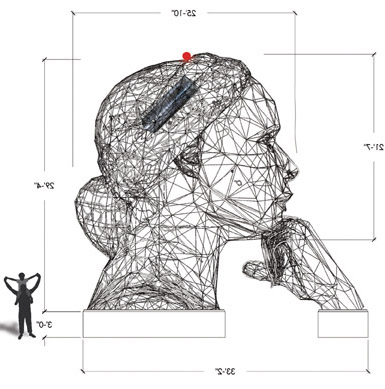 MANY VOICES, ONE STORY
A Large Scale Public Sculpture and Community Engagement Initiative
North Miami
Opa-locka, Florida
2013 - 2016

In collaboration with The Fulton Ross Group
Gale Fulton Ross, Artist
Fayanne Hayes, Curator and Community
Engagement Coordinator

In January 2012 Fayanne partnered with artist Gale Fulton Ross and co-authored a $473K grant proposal to develop a public sculpture for Miami's Magnolia North community in Opa-locka, Florida. Many Voices, One Story was selected and funded in part by the National Endowment for the Arts. The project involves the creation of a large scale sculpture, designed by Fulton Ross and a community engagement initiative led by Fayanne Hayes.

The sculpture slated for completion in 2015 will stand at a height of 30 ft. situated within a park setting. The sculpture contains a large time capsule which will be filled with the 'many voices' of the citizens of Opa-locka - their stories, reflections, memories, and mementos. A beacon light will run continually at the top of the sculpture reminding the community of its hopes and dreams for the future.

This project is sponsored by the Opa-locka Community Development Corporation in collaboration with Miami-Dade County Art in Public Places and Opa-locka stakeholders.


Image: Many Voices, One Story proposed sculpture by Gale Fulton Ross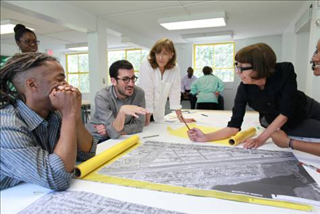 MANY VOICES, ONE STORY
A Large Scale Public Sculpture and Community Engagement Initiative
North Miami
Opa-locka, Florida
2013 - 2016

In collaboration with The Fulton Ross Group
Gale Fulton Ross, Artist
Fayanne Hayes, Curator and Community
Engagement Coordinator

In January 2012 Fayanne partnered with artist Gale Fulton Ross and co-authored a $473K grant proposal to develop a public sculpture for Miami's Magnolia North community in Opa-locka, Florida. Many Voices, One Story was selected and funded in part by the National Endowment for the Arts. The project involves the creation of a large scale sculpture, designed by Fulton Ross and a community engagement initiative led by Fayanne Hayes.

The sculpture slated for completion in 2015 will stand at a height of 30 ft. situated within a park setting. The sculpture contains a large time capsule which will be filled with the 'many voices' of the citizens of Opa-locka - their stories, reflections, memories, and mementos. A beacon light will run continually at the top of the sculpture reminding the community of its hopes and dreams for the future.

This project is sponsored by the Opa-locka Community Development Corporation in collaboration with Miami-Dade County Art in Public Places and Opa-locka stakeholders.


Image: Walter Hood, left, Christian Stayner, Fayanne Hayes with the Fulton Ross Group of Sarasota, and Rosario Marquardt, right, collaborate on a public art master plan July 6 in Miami

http://blogs.miaminewtimes.com/cultist/2012/07/artists_chosen_to_revamp_opa-l.php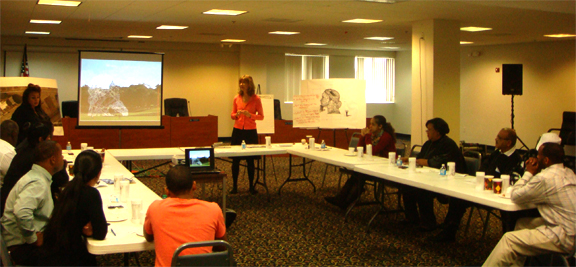 MANY VOICES, ONE STORY
A Large Scale Public Sculpture and Community Engagement Initiative
North Miami
Opa-locka, Florida
2013 - 2016

In collaboration with The Fulton Ross Group
Gale Fulton Ross, Artist
Fayanne Hayes, Curator and Community
Engagement Coordinator

In January 2012 Fayanne partnered with artist Gale Fulton Ross and co-authored a $473K grant proposal to develop a public sculpture for Miami's Magnolia North community in Opa-locka, Florida. Many Voices, One Story was selected and funded in part by the National Endowment for the Arts. The project involves the creation of a large scale sculpture, designed by Fulton Ross and a community engagement initiative led by Fayanne Hayes.

The sculpture slated for completion in 2015 will stand at a height of 30 ft. situated within a park setting. The sculpture contains a large time capsule which will be filled with the 'many voices' of the citizens of Opa-locka - their stories, reflections, memories, and mementos. A beacon light will run continually at the top of the sculpture reminding the community of its hopes and dreams for the future.

This project is sponsored by the Opa-locka Community Development Corporation in collaboration with Miami-Dade County Art in Public Places and Opa-locka stakeholders.

Image: Fayanne Hayes leads an open community forum with presentation by artist, Gale Fulton Ross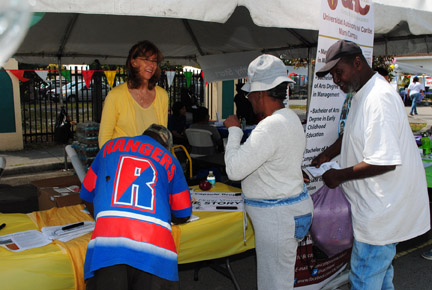 MANY VOICES, ONE STORY
A Large Scale Public Sculpture and Community Engagement Initiative
North Miami
Opa-locka, Florida
2013 - 2016

In collaboration with The Fulton Ross Group
Gale Fulton Ross, Artist
Fayanne Hayes, Curator and Community
Engagement Coordinator

In January 2012 Fayanne partnered with artist Gale Fulton Ross and co-authored a $473K grant proposal to develop a public sculpture for Miami's Magnolia North community in Opa-locka, Florida. Many Voices, One Story was selected and funded in part by the National Endowment for the Arts. The project involves the creation of a large scale sculpture, designed by Fulton Ross and a community engagement initiative led by Fayanne Hayes.

The sculpture slated for completion in 2015 will stand at a height of 30 ft. situated within a park setting. The sculpture contains a large time capsule which will be filled with the 'many voices' of the citizens of Opa-locka - their stories, reflections, memories, and mementos. A beacon light will run continually at the top of the sculpture reminding the community of its hopes and dreams for the future.

This project is sponsored by the Opa-locka Community Development Corporation in collaboration with Miami-Dade County Art in Public Places and Opa-locka stakeholders.

Image: Connecting with Magnolia North Community members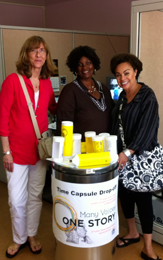 MANY VOICES, ONE STORY
A Large Scale Public Sculpture and Community Engagement Initiative
North Miami
Opa-locka, Florida
2013 - 2016

In collaboration with The Fulton Ross Group
Gale Fulton Ross, Artist
Fayanne Hayes, Curator and Community
Engagement Coordinator

In January 2012 Fayanne partnered with artist Gale Fulton Ross and co-authored a $473K grant proposal to develop a public sculpture for Miami's Magnolia North community in Opa-locka, Florida. Many Voices, One Story was selected and funded in part by the National Endowment for the Arts. The project involves the creation of a large scale sculpture, designed by Fulton Ross and a community engagement initiative led by Fayanne Hayes.

The sculpture slated for completion in 2015 will stand at a height of 30 ft. situated within a park setting. The sculpture contains a large time capsule which will be filled with the 'many voices' of the citizens of Opa-locka - their stories, reflections, memories, and mementos. A beacon light will run continually at the top of the sculpture reminding the community of its hopes and dreams for the future.

This project is sponsored by the Opa-locka Community Development Corporation in collaboration with Miami-Dade County Art in Public Places and Opa-locka stakeholders.

Image: Fayanne and Gale meet with Linda Bracy, coordinator, Community Empowerment Team Program, Opa-Locka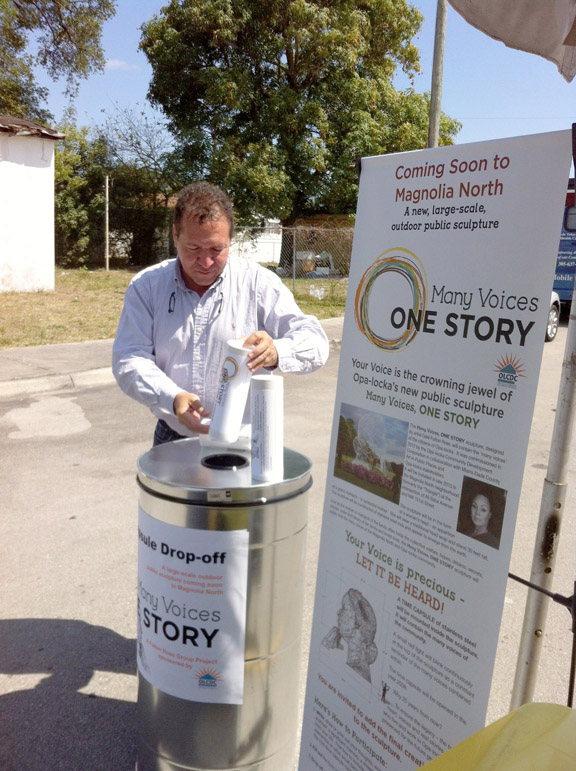 MANY VOICES, ONE STORY
A Large Scale Public Sculpture and Community Engagement Initiative
North Miami
Opa-locka, Florida
2013 - 2016

In collaboration with The Fulton Ross Group
Gale Fulton Ross, Artist
Fayanne Hayes, Curator and Community
Engagement Coordinator

In January 2012 Fayanne partnered with artist Gale Fulton Ross and co-authored a $473K grant proposal to develop a public sculpture for Miami's Magnolia North community in Opa-locka, Florida. Many Voices, One Story was selected and funded in part by the National Endowment for the Arts. The project involves the creation of a large scale sculpture, designed by Fulton Ross and a community engagement initiative led by Fayanne Hayes.

The sculpture slated for completion in 2015 will stand at a height of 30 ft. situated within a park setting. The sculpture contains a large time capsule which will be filled with the 'many voices' of the citizens of Opa-locka - their stories, reflections, memories, and mementos. A beacon light will run continually at the top of the sculpture reminding the community of its hopes and dreams for the future.

This project is sponsored by the Opa-locka Community Development Corporation in collaboration with Miami-Dade County Art in Public Places and Opa-locka stakeholders.

Image: Opa-locka citizens submit material for the Many Voices, One Story time capsule.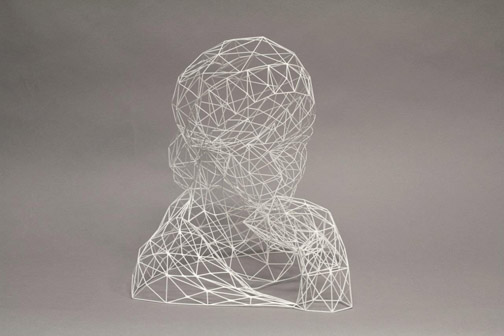 MANY VOICES, ONE STORY
A Large Scale Public Sculpture and Community Engagement Initiative
North Miami
Opa-locka, Florida
2013 - 2016

In collaboration with The Fulton Ross Group
Gale Fulton Ross, Artist
Fayanne Hayes, Curator and Community
Engagement Coordinator

In January 2012 Fayanne partnered with artist Gale Fulton Ross and co-authored a $473K grant proposal to develop a public sculpture for Miami's Magnolia North community in Opa-locka, Florida. Many Voices, One Story was selected and funded in part by the National Endowment for the Arts. The project involves the creation of a large scale sculpture, designed by Fulton Ross and a community engagement initiative led by Fayanne Hayes.

The sculpture slated for completion in 2015 will stand at a height of 30 ft. situated within a park setting. The sculpture contains a large time capsule which will be filled with the 'many voices' of the citizens of Opa-locka - their stories, reflections, memories, and mementos. A beacon light will run continually at the top of the sculpture reminding the community of its hopes and dreams for the future.

This project is sponsored by the Opa-locka Community Development Corporation in collaboration with Miami-Dade County Art in Public Places and Opa-locka stakeholders.


Image: Maquette, Many Voices, One Story sculpture